Darjeeling sits atop a long, narrow ridge in the Sikkim Himalayas, plunging abruptly into the bed of the Rangit River. On a clear day, the city offers spectacular views of Kanchenjunga (8,586 meters), and Mount Everest can also be seen from nearby vantage points. The city's name means "place of lightning." Darjeeling is a mountain resort and the city's economy is primarily based on tourism. Tourist trips are at their peak in the seasons are April to June and September to November. The city has important road, rail, and air connections with Kolkata.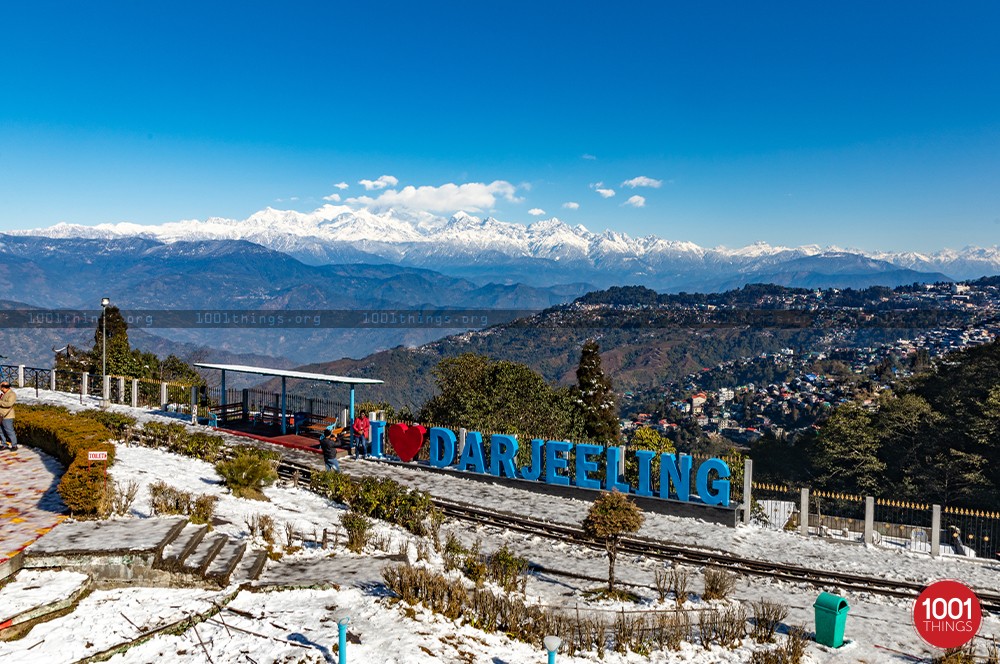 Darjeeling, commonly known as the 'Queen of the Hills, is the city and district capital of the state of West Bengal in eastern India. It is situated at an altitude of 2,042 meters (6,700 feet) in the Lesser Himalayas. Darjeeling is known worldwide for its tea, breathtaking panoramic views of majestic Mount Kanchenjunga (8,586 meters), the third-highest mountain in the world, and the UNESCO World Heritage Darjeeling Himalayan Railway.
There are four of his plots in the Darjeeling district. Darjeeling Sadar, Kurson, Mirik and Siliguri. Darjeeling Sadar, Kurseong, and Mirik are situated on hills and Siliguri lies on a plain at an altitude of just 400 meters. Kalimpong was part of Darjeeling District until it was set up as District 21 of West Bengal on 14th February 2017.
Why is Darjeeling famous?
Darjeeling is also known as the 'Queen of the Hills, Darjeeling is known for its scenic beauty, ancient forests, quaint homes, friendly people, and beautiful mountain views.
How To reach Darjeeling
By Airplane
Bagdogra, 90 km. Darjeeling (via NH 110) is the nearest airport and is connected by flights from one of the major cities such as Kolkata, Delhi, and Guwahati.
By train
Siliguri and New Jalpaiguri stations are his two nearest railway stations, apart from Darjeeling Himalayan Station (88 km from New Jalpaiguri Station). These stations are connected by direct trains to Kolkata, Delhi, Guwahati, and other major Indian cities.
By road/Self Drive
The main road to Darjeeling is 77 km via Siliguri. (via NH 55) connects to all major cities in India. Buses are available from Tenzing Norgay Bus Station in Siliguri. Smaller vehicles can also be taken for rent at airports, train stations, automobile associations, and police stations. There is also an option to take a prepaid taxi rank from NJP station or Bagdogra airport. There are four routes you can choose to go from Siliguri to Darjeeling: Tindharia – Kurseong route
Dudhiya – Mirik route
Rohini route
Pankhabari
There are Two options:
1- You can a train from Delhi to New Jalpaiguri and then take a taxi to Darjeeling
2- You can opt for a flight to Bagdogra and then take a cab up to Darjeeling.
Many trains go to Guwahati, you can hop onto anyone as it has to stop in New Jalpaiguri. Most trains are overnight.
The best is to take a flight of 2 hours 5 mins and a 3-hour drive up to Darjeeling.
A small tip will be very tempting not to wear woolen, take my advice, the moment you cross Kurseong, please wear light woolen as the temperature starts dipping down.
Distance between Delhi and Darjeeling
The distance by road from Delhi to Darjeeling is about 1500km.
The flight distance from Delhi to Darjeeling is 1101km From Delhi to Darjeeling.
Time consumed by road: 25:52 hours
The nearest airport to Delhi is Indira Gandhi (28.61, 77.21) The nearest airport to Darjeeling Bagdogra airport (27.04, 88.26)
How to Reach Delhi to Darjeeling by Air:
Darjeeling is not home to an airport, and Bagdogra Airport (Code: IXB) is the nearest airport. It is located 67.5km from Darjeeling and takes approximately 3 hours to get there by car. Bagdogra is connected to Delhi by various flights since it was recently designated as a significant airport all over India. A direct flight to the airport takes approximately 2 hours and 5 minutes. The average fare is between INR 4800 and INR 5700.
Delhi to Darjeeling by train:
Darjeeling's main train station does not have a direct train station to Delhi. However, from Delhi you can take a train to Jalpaiguri, and from there you can reach Darjeeling in about 4-5 hours. Along the way, you can enjoy beautiful countryside and tea gardens.
The Darjeeling station is well connected to the rest of India. Many trains run from Delhi, Mumbai, and Kolkata to Chennai, Bengaluru, Kochi, and Kolkata. Upon arrival at the train station, hire a taxi to Darjeeling's beautiful hill station.
The Darjeeling Himalayan Railway is a unique experience that takes you to the highest point of the Himalayas. Operates from New Jalpaiguri Jr. Darjeeling (Departs NJP station daily at 08:30 and arrives in Darjeeling at 15:35.)
The station is well connected to the rest of India. Many trains operate from Delhi, Mumbai, Kolkata, Chennai, and Bengaluru. Upon arrival at the train station, hire a taxi to Darjeeling's beautiful hill station.
You can go from Delhi to Darjeeling by road
These places are far from each other and it takes time. This amazing road trip of about 1,500 km takes about 26 hours. You can stay in Lucknow, Patna, and New Jalpaiguri along the route.
Road distance table: Delhi to Darjeeling
Delhi – Agra – Lucknow: 7 hours
Lucknow to Gorakhpur: 4 hours
It takes 4 hour's drive from Gorakhpur to Muzaffarpur
Muzaffarpur to Purnia: 5 hours
3 hours from Purnia to Siliguri
Siliguri to Darjeeling: 3 hours
Darjeeling is easily accessible by car from nearby cities such as Gangtok and Kalimpong, as well as Kolkata, Kathmandu, and many other places.
Darjeeling toy train:
The Darjeeling Toy Train is one of his most thrilling adventures and is officially known as the Darjeeling Himalayan Railway. It was declared a UNESCO World Heritage Site in 1999. Since then, it has carried passengers from the lower Himalayas to lush mountains and rolling hills.
Traveling on narrow gauge trains, Darjeeling Toy his train ride is a marvel of heritage and engineering that will last a lifetime. This is one of the perfect ways to appreciate the natural beauty of this famous mountain town and make your trip even more enjoyable. The Darjeeling Himalayan Railway began operating around 1881 and has become one of India's few mountain railways. So taking this mountain train makes your drive to Darjeeling even more enjoyable.
Toy Train Darjeeling also gives you a glimpse of one of Darjeeling's most beautiful spots the Batassia Loop. The train journey also passes 5 major bridges and 500 smaller bridges. The train travels through Darjeeling's lush green hills, jungles, and tea plantations. The mesmerizing views of the snow-capped Himalayas and Kanchenjunga, the third-highest mountain in the world, will amaze you. Tourists from all over the world flock here to enjoy the amazing rides.
A tour of Darjeeling should include a ride on this toy train. We offer bespoke deals on Darjeeling Tours packages to help you get the most out of this hill station.
Types of toy trains in Darjeeling
There are three types of tourist trains operated by the Darjeeling Himalayan Railway. 
1. Darjeeling Toy Train Scheduled Operation
We operate toy trains with diesel engines for tourists. One of his most famous rail journeys took travelers from New Jalpaiguri to Darjeeling. These trains usually consist of first-class carriages, air-conditioned carriages, and baggage carriages for loading luggage. However, additional coaches can be added during the high season. Additionally, new air-conditioned Vistadome carriages have recently been added to the train offering a unique experience.
position
Regular toy trains run from NJP to Darjeeling via Siliguri, Sukna, Ranthong, Tindaria, Gayavari, Mahanadi, Kurseong, Tung, Sonada, and Goum. It takes only 10 minutes for course songs and 1 minute for other stations.
How to get to New Jalpaiguri
The nearest airport to New Jalpaiguri is Bagdogra Airport, 18 km away. It is well connected by rail and road to the country's major cities.
Prices: Darjeeling Toy Train First Class ticket from New Jalpaiguri to Darjeeling costs INR 1,420, Air Conditioned Chair Car ticket costs INR 1,700. Note: First-class buses are available on all trains. However, 2nd class is easily available on some local trains.
2. Toy train joy ride
The toy train departs from Darjeeling station and the journey time is 2 hours. There are two options for the amusement park, and you can choose either a train with a steam engine or a train with a diesel engine, depending on your preference. The most popular is the steam train ride because it's an authentic experience that recreates the legacy and colonial atmosphere of when toy trains were used.
Position:
The Darjeeling Toy Train route passes through Batasia Loop and Goom. The route is 14 km long and the highest point of the train journey is Mount Goum, 2,255 meters above sea level. The train then passes through 870 curves and rapid turns and loops.
Toy train Prices:
Darjeeling Toy Train tickets cost 1,600 INR for 1st class seats on steam trains and 1,000 INR for 1st class seats on diesel trains. The entrance fee to the Ghoom Museum is included in the price.
How do I book a toy train in Darjeeling?
Darjeeling Himalayan Railway toy train booking can be done online or offline. Railway tickets to Darjeeling can be booked at Indian Railways booking desks throughout India or at the official website of Indian Railways (IRCTC).
Tip: Due to high demand, tickets are rarely available on-site, so it is the best way to book your tickets in advance.