Kasol is a picturesque little village in Himachal on the banks of the Parvati River. Commonly referred to as the 'Amsterdam of India', Kasol is an increasingly popular tourist attraction as a popular hub for hikers, backpackers, and nature lovers. Located 23 km from Buntar and bordering the religious city of Manikaran, this valley is one of the best places in the country to just sit and enjoy the panorama of snow-capped mountains, pine trees, and calm rivers. Although Kasol is open for tourism all year but Kasol temperature used to be pleasant from June to October.
How to reach Kasol?
Due to its high altitude, Kasol is only connected to the rest of India by well-developed roads. There is a regular bus service in the town of Kasol. Buses are operated by both private and government owners. There are no direct flights or trains to Kasol. Buntar Airport, near Kullu, 31 km away, is the closest airport to Kasol and the rest of India. The nearest train station to Kasol is in Joginder Nagar, 145 km from Kasol by narrow gauge. As far as the broad gauge is concerned, Pathankot station is the nearest railway station.
How to get to Kasol by plane?
Buntar Airport near Kullu is about 31 km away and is the closest airport to the village. It connects three cities, Delhi, Pathankot, and Shimla. From there you can rent a local taxi or private car to Kasol.
Nearest airport: Chandigarh Airport (IXC) – 157km from Kasol.
How to get to Kasol by road?
HRTC (Himachal Road Transport Corporation) operates its regular buses from neighboring cities like Delhi, Haryana, and Punjab. Within the state, they travel back and forth between the cities of Pathankot, Shimla, Kangra, Solang, and Dharamsala.
How to reach Kasol by train?
The nearest railway station is Pathankot, about 150 km away.
You can choose trains such as Himsagar Express, Andaman Express, Ten Jammu Express, and Sarvodaya Express. Chandigarh, which is about 310 km away, is also an option. You can also rent a taxi or private car from here to Kasol.
How to get to Kasol by bus?
Considered the most adventurous way to reach Kasol. Along the way, you will have the opportunity to admire the beauty of the Indian valleys. The distance between the two is 526 km and can be reached by hiring a private taxi or a Volvo. If you don't have a pre-booked Volvo, you can find a local one at his ISBT Cashmere Gate at the Main Bus Terminal. Himachal Road Transport Corporation buses operate from there. Public transportation in Kasol
The town of Kasol is very small, so walking is the best way to get around Kasol. However, if you want to go to Manikaran or Marana, you may need to take a local taxi or state bus.
Top places To Visit In Kasol:
Manikaran Sahib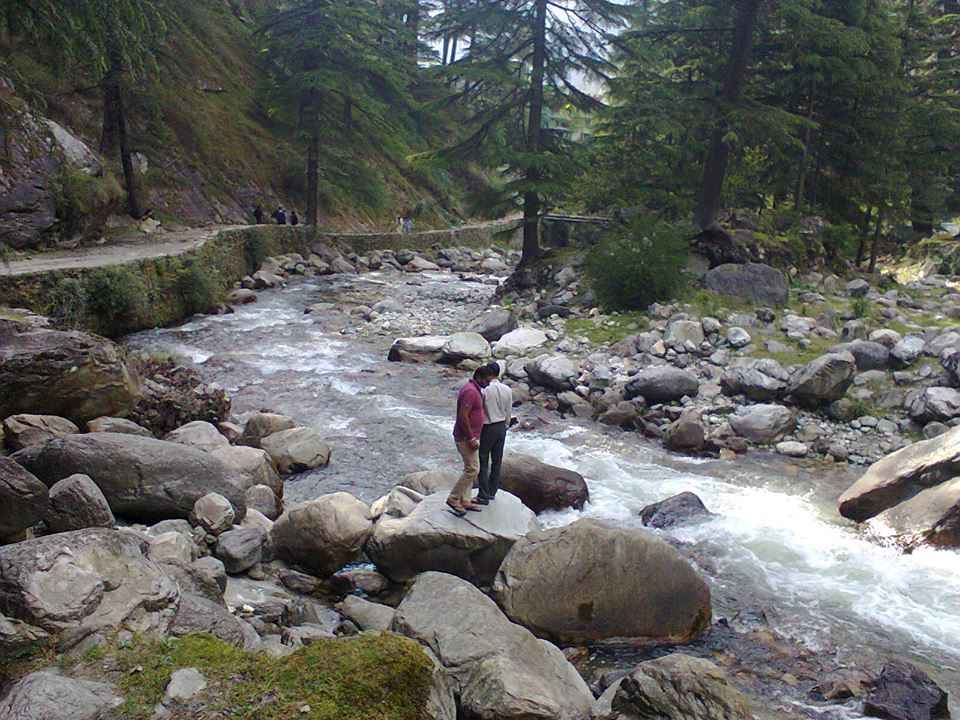 Located 4 km from Kasar, on the banks of the Parvati River in the Kullu district of Himachal Pradesh, Manikaran is known as a famous pilgrimage site for both Sikhs and Hindus. Numerous temples, the Gurdwara Manikaran Sahib temple, and hot springs attract pilgrims and tourists.
There are 3 hot springs you can bathe in, one in the Gurdwara itself and the other two for private guest house use. The public baths are separated by gender. The water from these springs contains sulfur, which has healing properties. The water is hot enough that you can put the container directly on it to cook and it is served as ranga.
Malana
In Marana Nala, there is a side valley of the Parvati Valley, which lies a lonely village cut off from the rest of the world. Known as Marana or Marana Village, it is located in the Kullu district. Widely known for its strong cultural and religious beliefs with diverse emotions rooted in the past, it is a place for those seeking spiritual guidance. The route to Marana is well known for trekking tours, so this place is also suitable for all adventure lovers.
The temples of Malana – Jamadhani Temple and Renuka Devi Temple – are the main attractions of the village. Known to be close to each other and worship various gods and goddesses, they are highly revered by the locals and meticulously preserved. The trekking route to Marana is adorned with lush deodar vegetation and offers a glimpse of the Marana Dam, which occasionally brings new energy to the people.
Parvati River
Flowing through the Parvati Valley in Himachal Pradesh, the Parvati River is a must-see part of this beautiful region. This thundering river rises in the Mantaray Glacier, flows north through the Parvati Valley, and finally joins the Bees River near Kullu. The Parvati River isn't a place worth seeing, but it's Kasol's top attraction. The current is very hazardous for any adventurous activities, so you can sit on the rocks on the banks of the Parvati River, mesmerized by the rumbling sound of water, and forget the noise of everyday life for at least a while or a short time.
Chalal
While Kasol receives the focus among the villages of the Parvati Valley, it is easy to experience the actual serenity of the mystical Himachal Pradesh through hiking a bit in addition from this most important city to the old-fashioned little village of Chalal which is located at an altitude of over 5300 ft and a 30-minute trek far from the traveler hub of Kasol, Chalal has controlled to conserve its old-international mountain village rustic charm. Set withinside the stunning Parvati Valley of the Himalayas, with a grand view of snow-covered mountains and majestic pine trees, this old-fashioned city has been nicknamed the "Isreal of Himachal Pradesh", and it is rightfully so!
With Kasol turning into a mainstream village, Chalal has concluded that its fan following amongst backpackers and trekkers, who pop out right here for trekking, camping out below the stars, or experience a few warm chairs as they soak withinside the sheer splendor of the scenic landscape view of the grand Himalayas. The big quantity of backpackers and vacationers that go to Chalal has given upward thrust to some of the events that show up deep withinside the forests, forming the correct spot nestled in the mountains below a paranormal sky complete of stars that no different regions on earth may want to ever come near offering. However, the pleasure of dropping yourself withinside the glory of the mountains and residing the easy existence nevertheless stays in the tiny hamlet of Chalal, making it a stunning important for backpackers throughout the globe.
How to reach Kasol from Delhi?
Kasol is about 514 kilometers away from Delhi. There is only one driving route that covers the route from Delhi to Kasol and this is the shortest and fastest. There are several ways to get from Delhi to Kasol by car, plane, or train. Kasol, also popularly termed Little Israel, is a popular destination for travelers, hikers, naturalists, and hikers.
Delhi, the capital of India, is a wonderful travel destination. On the other hand, the hustle and bustle of the city can be frustrating and make you want to escape from everyday life. If you're looking for a fun day trip from Delhi, a trip to Kasol can't be beaten. The distance between Delhi and Cursor is about 531 kilometers, so it will take him at least 12 hours and 30 minutes by car. Depending on your route, you can stop at Chandigarh or Buntar on the route from Delhi to Kasol.
When is the appropriate time to drive from Delhi to Kasol?
Located in northern Himachal Pradesh, the cursor shows weather patterns typical of the highlands. If you want to spend all your time outdoors, the summer months of April to June are the best time to drive from Delhi to Kasar. Visit us on major winter holidays and during the year-end and New Year holidays.
High season: June to October
Best season: February to May
When to avoid: November to January
From Delhi to Kasol by train:
If you are planning to travel from Delhi to Kasol by train, but there is currently no direct flight available. To travel by rail, you have two options:
#Option 1:
You can take the train from Delhi to Chandigarh. About 5 trains run daily from Delhi to Chandigarh. The next train goes from Delhi to Chandigarh.
KALKA SHTBDI (12005),
KALKA SHTBDI (12011),
UHL JAN SHATABDI (12057),
NETAJI EXPRESS (12311),
PASCHIM EXPRESS (12925) etc.
Once in Chandigarh, take the HRTC bus to Kullu or Manali. Buntar is the stop for all buses to Manali or Kullu. Therefore, please inform the bus conductor in advance that you would like to be dropped off at Bhuntar. Chandigarh In addition, it takes 7-8 hours to travel from Chandigarh to Buntar
From Buntar, you are required to take another bus or taxi to Kasol, about 34 km away, which takes about 50 minutes.
Option 2:
Take a train from Delhi to UNA (Himachal Express or his UNA Janstanbudi).
Then, stop at Roper/Rupnagar RS station to start your road trip…
ROPER → SWARGHAT → BILASPUR → MANDI → KULLU → BHUNTAR → KASOL.
About 200 km by road.
Note: If you prefer the train, option 1 is better in terms of public transport and has better connections.
From Delhi to Kasol by road
Travel by private car or taxi
If you are going from Delhi to Kasol than it is a really good and cool option. The distance between the two cities is nearly about 565 kilometers and it takes about 12 hours to drive to Kasol. You can drive this road trip yourself or contact us to book a personal taxi.
Roads which are from Delhi to Kasol are mostly in good condition. This is all because Parvati Valley is well known as a tourist destination, especially among international travelers. On the other hand, the scenery is breathtaking and makes up for the long drive to Parvati Valley.
When using public transportation
Several public transport buses run regularly from Delhi's ISBT Cashmere Gate Bus Station. The best option is to drive overnight from Delhi to Buntar. Volvo buses cost between INR 1,000 and INR 1,500. From Buntar, take the HRTC bus to Kasol. It takes about an hour by car to reach the site. It takes about 8 hours by car from Chandigarh to Kasar. It takes about 8 hours by Volvo bus from Chandigarh.
Best route from Delhi to Kasol via NH44
Departure from: New Delhi (Delhi)
Ending point: Kasol (Himachal Pradesh)
Via: NH44
Distance: 527km
Duration: about 12 hours
If you are traveling by car, here is a simple road map from Delhi to Kasol.
Delhi – Sonipat – Panipat – Karnal – Shahabad – Rupnagar – Bilaspur – Mandi – Bhuntar – kasol
This is the shortest and only smooth road trip between Delhi and Cursor. The 520 km drive from Delhi to Kasar takes about 12 hours. Due to road works or bad weather, this route is a toll road, so there may be traffic jams between Delhi and Kasol. Therefore, you should always check real-time traffic information and use live maps to get a better understanding of driving conditions between Delhi and Kasol.
Delhi to Kasol by Flight:
There are no availability of direct flights from Kasol to any other destination. Kullu-Manali Airport (KUU) is located at Bhuntar, which is about 11 kilometers from Kullu and 33 kilometers from Kasol.
Depending on the airline and flight route, a trip from Delhi to Kullu might take from around two and a half to five hours. For the best deal on a flight from Delhi to Kullu/Kasol, you can check any online travel platform or the airline's direct website.
Depending on the travel season, booking window, and available discounts, the cost of a flight from Delhi to Kullu/Kasol might be ranging from Rs. 5000 to 7000. For a comfortable trip to your accommodation, book a quick airport cab or taxi from Kullu-Manali Airport to Kasol.
When is the best time to visit Kasol?
October to June is the best time to visit Kasol when the weather is pleasant. The weather in Kasol is good all year round, but the best time for hiking is around March to May. The weather during this time is pleasant, with temperatures ranging from 15°C to 22°C. However, if you enjoy cool nights and cool evening breezes, winter is the best time to visit. Temperatures during the season typically vary between 3 and 10 degrees and the road to Kasol can be closed due to snow.
| | | |
| --- | --- | --- |
| Month | High/Low (°C) | Rain |
| October | 19°/ 9° | 5 days |
| November | 15°/ 6° | 12 days |
| December | 11°/ 1° | 6 days |
| January | 7°/ -1° | 15 days |
| February | 11°/ 1° | 6 days |
| March | 13°/ 3° | 14 days |
| April | 18°/ 7° | 15 days |
| May | 19°/ 7° | 7 days |
| June | 23°/ 12° | 8 days |
Food of Kasol:
At Kasol, a hill station in northern India, many restaurants serve North Indian cuisine. But this remote area is the center of many Israelis, with chic cafes and liquor stores, and a perfect mix of Indian and non-Indian cultures. One of his most delicious local dishes, shakshouka, is poached eggs dipped in a spicy tomato curry and served with hummus and flatbread.
Near the bridge is a shamboo Momo stall that serves arguably the best momos in the valley. Be sure to try his fried momos.