This temple was built by Swami Sambashi Vamurti in 1980. The first linga he installed was in 1980, and since then many lingas have been installed in the temple. Next to the lingam is also a huge and large Nandi. Nandi is 11 meters tall and sits on a huge pedestal. Within the temple grounds, there are about 11 other temples dedicated to various gods. The first includes the temples of Lord Vishnu, Lord Brahma, and Lord Maheshwara. This is followed by the temple of Lord Kotilingeshwara. This temple is famous for its history so Kotilingeshwara temple timings are important to participate in specific rituals.
The temples include Goddess Annapurneshwari Temple, Goddess Kalmari Amma Temple, Lord Venkataramani Swami Temple, Lord Panduranga Swami Temple, Lord Rama, Lord Sita, Lakshmana Temple, Lord Panchamukha Ganapathy Temple, Lord Anjaneya Temple, and finally Goddess Kannika Parame. Includes Shwari Temple.
Kotilingeshwara Temple timings:
The government has designated the temple as a tourist attraction, allowing hundreds of tourists from all over the world to pay their respects to Asia's largest lingam. There are two flowering trees here, Nagalinga and Cannonball, where many unmarried women pray for a blessed and happy married life. Kotilingeshwara Temple timings for worship and offerings: Daily from 7 a.m. to 9:30 p.m.
| | |
| --- | --- |
| Timings | Pooja/ Darshan |
| 6:00 am | Temple opening hours |
| 6:00 am to 7:00 am | Cleaning temple premises and idols |
| 6:10 am | Abhishekam Pooja |
| 7:00 am | Maha Mangala Aarti, Naivedya |
| 7:00 am | Darshan |
| 7:15 am | Maha Prasad |
| 7:15 a.m.–9:30 p.m. | Darshan |
| 9:30 pm | Temple closing hours |
Kotilingeshwara temple photos: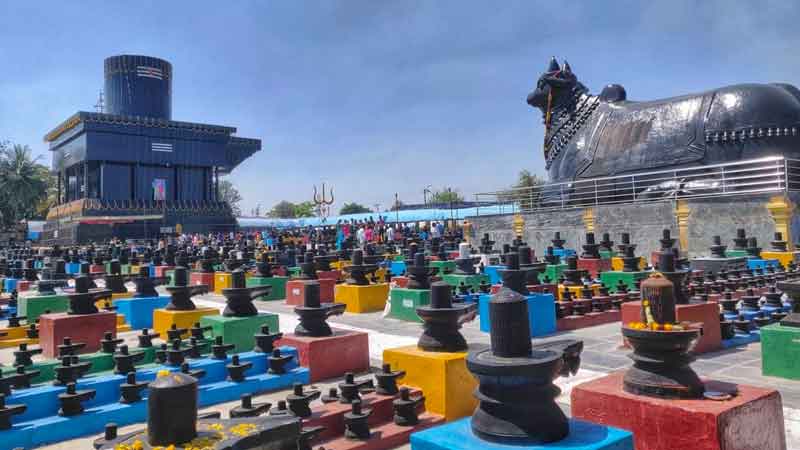 Kotilingeshwara Temple distance from Bangalore:
Kotilingeshwara Temple distance from Bangalore is about 100 km. It takes about 2 hours to drive from Majestic in Bangalore. You can find buses and other public transport easily.
Located 100 km from Bangalore, 35 km from Koral, and 14 km from Bangarapet, Sri Kotilingeshwara Temple is a beautiful temple located in Kammasandra village between Bangarapet and Bethamangalla. It is one of the most popular pilgrimage sites as part of Bangalore tours and also one of the ideal day trips near Bangalore. Check Kotilingeshwara temple timings before deciding the mode of travel.
Kotilingeshwara, which means 10 million lingas, is one of the most famous pilgrimage sites around Bangalore and has great religious significance. The temple is famous for its giant 108-foot-high Shivalinga, one of the largest in the world, and the 35-foot-tall Nandi in front of it. There are many Shiva lingas all over the temple. The temple was built in 1980 on 13 hectares of land.
There are several other shrines within the temple grounds, usually visited on the way to the main temple of Shivalinga. Besides the main temple of Lord Kotilingeshwara, there are temples of Lord Brahma, Lord Vishnu, Lord Maheshwara, Venkataramani Swami Temple, Goddess Annapurneshwari Temple, Panduranga Swami Temple, Panchamuka Ganapathy Temple, Lord Rama Temple, and Lakshmana. There are also shrines to the gods, such as the Sita Temple. Anjaneya Temple, Kanyaka Parameshwari Goddess Temple, and Karmari Amma Goddess Temple
This temple attracts a large crowd on weekends. It is recommended to arrive at the temple early in the morning (preferably around 8 a.m.) to avoid crowds. Maha Shivaratri (February) is the largest festival celebrated here and usually attracts around 200,000 worshippers.
Public transport is available from Bangarapet.
Dress Code:
Women: No Western attire such as jeans, t-shirts, or shirts. However, women must wear a saree, a salwar with a dupatta, or a long skirt that covers the ankles.
Men: dhoti/trousers and shirt (torso must be covered).
Quick Facts About Kolar, Kotilingeshwara Temple:
The best time to travel is between July and January. Address: Kodilingam Temple Road, Ghatta Kamadenahalli, Kolar-563121 (Map)
Business hours: 6:00 a.m. to 9:00 p.m.
Entrance fee: 20 INR per person.
Camera fee: 100 INR per camera
Parking fee: 30 INR
Linga installation fee: INR 6,000
Kotilingeshwara Temple Darshan Tickets:
Ticket cost: Rs. 20 per person
Camera Charges: Rs. 100 per camera
Linga Prathishta: Rs. 7500 (might change)
Ticket counters open at 7:00 a.m. for booking.
Kotilingeshwara Temple: Free Darshan
Children under 14 and physically challenged people can have free darshan.
Free Darshan Timings: 9:00 a.m. to 10:00 a.m. and 7:30 p.m. to 9:00 p.m.
Anna Prasada (free meals) Timings: 12.30 pm to 3.30 pm and 7.00 pm to 8.00 pm.
7 Interesting Facts About Kotilingeshwara Temple
Here are some interesting facts about Kotilingeshwara Temple that most people don't know.
Ten million or one billion Shiva lingas
This is a unique temple of Lord Shiva and has a lingam of Shiva worth about $10 million.
All Shiva lingas (except the largest) at the Kotilingeshwara Temple vary in height from 1 foot (0.30 m) to 3 feet (0.91 m).
For Shiva devotees, seeing so many lingams at once is a wonderful experience. You will feel great peace when you meet these Shiva lingas.
Height of Shivalinga
Largest Shivalinga at Kotilingeshwara Temple
The Kotilingeshwara Temple is known for having one of the largest Shiva lingas in Asia.
This giant Shiva Linga is 108 feet (33 metres) tall.
Very tall Nandi statue
Nandi at Kotringeshwara Temple, Karnataka
Besides the large Shiva Linga, the temple also has a large statue of Nandi (the vehicle of Lord Shiva).
This Nandi statue is 11 metres tall and stands on a huge pedestal.
The Nandi statue in this temple is also one of the largest Nandi statues in the world.
Eleven small temples dedicated to various gods
There are about 11 different temples of various deities within the temple grounds. The first includes temples of Lord Vishnu, Lord Brahma, and Lord Maheshwara.
Then continue to Kotilingeshwara Temple.
Other temples include Goddess Annapurneshwari Temple, Goddess Kanika Parameshwari Temple, Lord Anjaneya Temple, Lord Rama Sita Laxman Temple, Lord Padurangaswamy Temple, Goddess Karmari Amma Temple, Lord Venkataramani Swami Temple, and Venkataramani Sir Panchamukha Ganapas.
Spread a small Shivalinga at Kotilingeshwara Temple.
Clearly, 10 million Shiva Lingas require a large repository. But do you know how much space is needed to store these lingams? In fact, all the lingams of this temple are spread over an area of 15 acres.
Imagine this vast area covered with Shivalinga. How great would the prospect be for a devotee of Lord Shiva?
The Unique Story of One Billion Shiva Linga
Manjunata Sharma, or Bhakta Manujinata, was born into a Shaiva Hindu Brahmin family.
Although he was of good character, he did not believe in the existence of God.
Moreover, as a child, he insulted Lord Shiva.
And I grew up insulting him. But one day he realised the divinity of Lord Shiva and became his devotee.
One day, when Bhakta Manjunatha and his family were visiting a local Shiva temple in their village, many incidents occurred that were considered ominous omens.
In one incident, all the backs (incense burners) in the precinct did not light.
Others in the temple blamed Bhakta Manjunatha for it.
There was another person in the temple: the local viceroy of the ruling Rashtrakta dynasty, Mahalaha Ambikeshwaravarma. He turned to Manjunatha to prove his innocence.
Then he and Manjunatha sang a devotional song, Mayaka Deepam.
After that, the whole interior of the temple shone brightly again.
Everyone accepted the fact that Manjunatha was now a different person.
Moreover, Manjunatha admitted to offending Lord Shiva at least ten million times in his lifetime. To get rid of past sins, Manjunatha created ten million (billion) Shiva lingas with the assistance of Ambikeshwaravarma.
Hence the name Kotilingeshwara, where Koti means 'clore'.
These lingas were installed in the area now known as Kotilingeshwara Temple.
Recommended Reading: 8 Facts You Didn't Know About Shani Sinnapur Temple!
Shiva Linga Pratisthapana:
Shiva Linga Pratisthapana means setting up a Shiva Linga in a temple. At Kotilingeshwara Temple, you can install your own Shiva linga.
The fee to install your own Shiva Lingam starts at 6,000 rupees.
Maha Shivratri Festival at Kotilingeshwara Temple
Maha Shivratri is a very special day for devotees of Lord Shiva.
The festival of Maha Shivratri is celebrated at this temple.
Thousands of Shiva devotees gather here to celebrate Maha Shivratri.