Residing amid the Kumaon mountains, Bhimtal is a small mountainous
town located in the heart of Nainital district in Uttarakhand. Catch a bird's-
eye view of snow-capped mountains, clean lakes, and lush greens while
paragliding in Nainital. Every year, thousands of adventure seekers visit
Uttarakhand to experience paragliding in Bhimtal, as it is the second-best
place for paragliding in India after Bir-Billing.
Quick Facts:
● Location: Jungalia Gaon, Bhimtal, Nainital
● Timings: 9:00 a.m.–4:00 p.m.
● Minimum Age: 14 years
● Weight: 35–80 kg
Cost of Paragliding in Nainital
The price of paragliding depends on the duration of the flight. However, the
the minimum cost of paragliding in Nainital is Rs 1600 for 4–10 minutes of
flying.
Package Type Duration Cost
Short Fly 4-10 min- Rs. 1600/person
Medium Fly 15-25 min- Rs 4000/person
Long Fly 30-45 min- Rs 6800 per person
About the experience:
Your paragliding take-off point will be near the Bhimtal Lake; you can
reach here through a small trek of about 15–20 minutes. You'll witness a
flying experience over the lofty mountains and glide towards Naukuchiatal
for a perfect, smooth landing on the ground that gives you a perfect
a glimpse of the town situated amid the mountains. A certified instructor will
fly with you for guidance and navigate the glider while you get a scenic
View of the magnificent valley from above 1370 ft.
Spring Birds

Leave the humdrum of hectic city life and enliven yourself at Hotel Spring
Birds. Explore the best scenic view only at Naukuchiatal, Nainital, at Hotel Spring Birds. Positioned at the foothills of the Kumaun Mountains, this is a
perfect place to enjoy the charming view of butterflies and the colorful
chirping birds of the Himalayas, which will leave you awestruck. A
fascinating view of the surroundings and diverse biodiversity will give you a
glimpse of virtual heaven. Engross yourself in the adventure games such
as kayaking, paragliding, bird watching, and boating right here.
Location: Near Hanuman Temple, Naukuchiatal, District-Nainital
Naukuchiata
Experience the gush of blood flowing through your veins by soaring through
the air and flying like a bird, enjoying the aerial views of the steep valleys.
Naukuchiatal is a magical hill station that is well known for its shimmering
lakes and water bodies. Naukuchiatal offers the best paragliding in Nainital
to experience bliss against the backdrop of rolling green mountains.
The snow-capped mountains offer fresh feelings, and the positivity all
around will definitely fascinate you. Although Naukuchiatal is a spot to be
explored all throughout the year, it is highly advised to keep track of the
weather conditions to enjoy paragliding to the fullest.
Location: Positioned 20 km from Nainital
Short Fly: 3 to 5 minutes
High Fly: 20 to 30 minutes
Safety Measures For Paragliding In Nainital
Paragliding involves a high level of risk; hence, precautions must be taken
to avoid any kind of hazard. Always ensure that there is no scope for error
while undertaking this activity. Weather conditions and wind speed are a
few basic checks before performing this activity. Apart from this, you should
carefully listen to and obey every single command given by the instructor.
Four steps should be taken into consideration prior to paragliding:
● One should carefully keep track of the weather conditions, ensure the
availability of proper paragliding essentials, and also wear a
comfortable outfit. If you feel nervous or panicked before the pre-
flight, then just back off.
● Launch yourself in a proper way, as it determines how wonderful your
flight is going to be. If you experience any kind of nausea or
dizziness, then make sure you abort the activity right away.
● For paragliding in Nainital, Uttarakhand, it is a must to practice
techniques for both launching and landing.
● Carefully plan to end your flight before you start your journey. A safe
landing is the most vital part of paragliding. Proper landing in a safe
zone should be given the utmost priority in order to avoid any kind of
accident.
Tips For Paragliding In Nainital
● For proper blood circulation, make sure you wear sturdy shoes and
loose socks.
● Make sure you carry woolen clothes, thermals, and jackets that are
windproof.
● It is recommended to wear track pants instead of jeans during
paragliding.
● If your skin is highly sensitive, then it is a must to apply sunscreen.
● Wear gloves in order to avoid frostbite.
● If you have a phobia of heights, then paragliding is strictly prohibited.
Highlights
● Soar high in the sky while Paragliding in Nainital.
● Get enchanted by the view of lakes and mountains and enjoy the cool
breeze.
● Get thrilled about this once-in-a-lifetime adventure trip.
● The cost of the Paragliding in Nainital trip is Rs 2000 in the current
market.
Quick info:
● Activity Location: Nainital, Uttarakhand
● Activity Timing: Between 9:30 a.m. and 5:30 p.m.
● Activity Duration: 3–10 minutes
● Height: up to 4500ft
● Age limit: 14 years to 65 years
● Weight limit: Above 35kg and below 90kg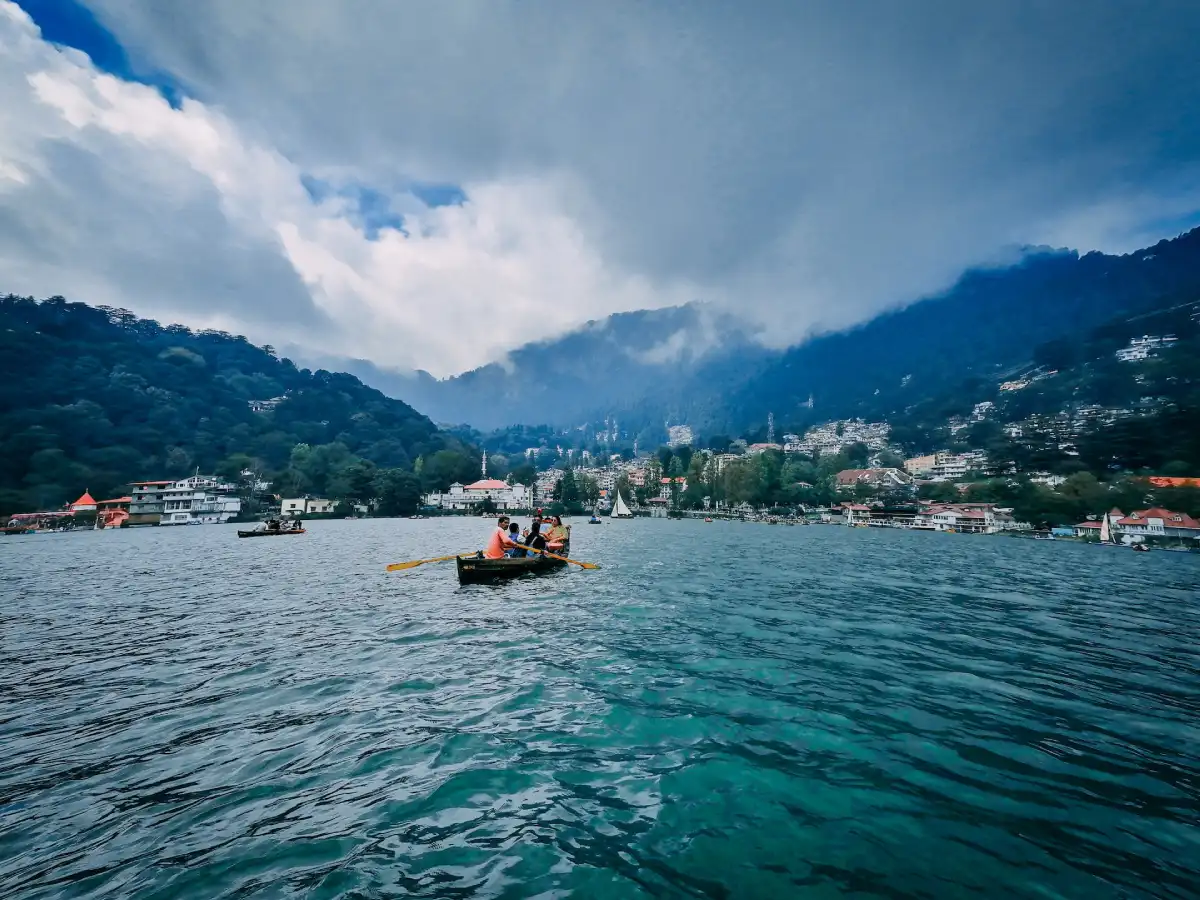 About Nainital:
● Nestled in the Kumaon Valley, Nainital is one of the exotic locations
apt for adventure sports like paragliding. The adventure area is
surrounded by lovely lakes and tall Deodar trees. You can enjoy the
view of mountains and lakes while soaring high above.
● With a wide range of paragliding options, you can choose from
among the kinds of packages you wish to avail yourself of. The best
season for paragliding in Nainital is in the winters when there is snow
all around, and during the early summers, you can enjoy the lovely
butterflies and rare birds that are endemic to the Kumaon Valley.
About Paragliding in Nainital:
● Once you arrive at the location, our team will contact you and lead
you to the adventure site, where you will have a small session for
safety instructions and fill out a form citing your health status so that it
is assured that you are fit for paragliding.
● The instructors and pilots are highly trained professionals with a lot of
prior experience.
● You will be given safety equipment and will be prepared for the flight
from a height of 1370m above sea level. The instructor and pilot will
be there, constantly motivating you and helping you conquer your
fears, and safety devices will be strapped onto you by the expert.
● You will have to run for a few meters on the edge of the hill, and the
paraglider will finally take off. The pilot will be flying with you,
adjusting the glider to the direction of the wind, and keeping you safe.
● Get mesmerized by the view of hills, lakes, forests, and mountains
from high above while paragliding. Experience the aerial view of
Bhimtal Valley by flying high into the sky at a height of up to 4500
feet.
● After 3–10 minutes of paragliding, the pilot will help you land safely at
the landing point.
● Once you land safely, you will be transferred to the place of takeoff.
How to Reach Nainital:
● By Air: The nearest commercial airport to Nainital is Indira Gandhi
International Airport in Delhi, which is 290 km away from Nainital.
● By Road: Nainital is well connected to all the major nearby cities, and
there are buses coming to Nainital from Delhi, Chandigarh, and
Dehradun. You can easily opt for a private or public bus and arrive at
Nainital.
● By Train: The nearest railway station is Kathgodham Railway
Station, which is located at a distance of 34 kilometers at the foothills
of the Kumaon hills. This railway station is well connected to all the
major cities in the country.
What is the best time to visit Nainital for paragliding?
September to December and March to June are considered to be the
ideal seasons for enjoying paragliding in Nainital. You experience the lush
green fields and snow-covered mountains with a pump in your adrenaline.
What are the age and weight limitations for paragliding in Nainital?
Below are the age and weight requirements:
Age: This activity can be enjoyed by anyone above the age of 14.
Weight: The minimum weight required is 15 kg, and a person up to 120
Kg can enjoy Paragliding in Nainital.
How do I make an online booking for paragliding in Nainital?
To book your Nainital paragliding, you just need to pay Rs 400 per person
in advance; the rest, Rs 1000 per person, has to be paid at arrival. After
successful payment, we will email you a booking voucher.
How long does the activity last?
Paragliding in Nainital can last anywhere between 10 and 30 minutes,
depending on the type chosen, and can go up to a speed of 20 to 27 kmph.
What should I wear during paragliding?
It is advisable to wear light clothes that are full in length, such as a T-shirt
and trousers or jeans. Sarees, skirts, etc. are not allowed. Along with that,
one must wear closed shoes. Flip-flops and sandals are not allowed.
What should I wear during paragliding?
It is advisable to wear light clothes that are full in length, such as a t-shirt
and trousers or jeans. Sarees, skirts, etc. are not allowed. Along with that,
one must wear closed shoes. Flip-flops and sandals are not allowed.