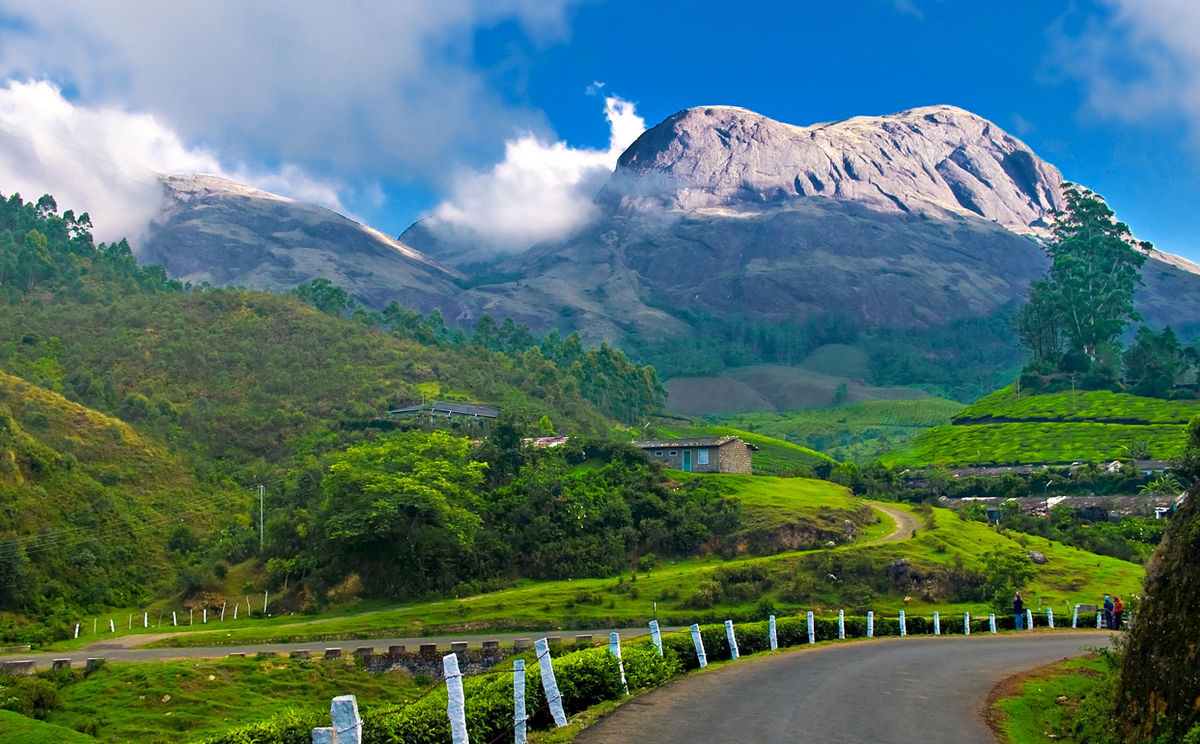 Munnar is a hill station in the Idukki district of Kerala, well known for its tea plantations, greenery, winding roads, fog, and lookouts. It is about 1600 meters above sea level. Munar is one of the most popular and most visited destinations in the world. The main purpose of visiting Munnar is to explore its vast tea plantations and exotic flora and fauna. Eravikulam National Park, Salim Ali Bird Sanctuary, and tea plantations are the main places to visit in Munnar. It is also common to be the native place of the famous Neelakurinji flowers. These flowers bloom every 12 years (the next one will bloom in 2030) and the endangered Nilgiri his tar.
It is divided into two parts, is the place where the bus station and most of the guesthouses are located. Munnar is also a most admired place for various activities like hiking, camping, paragliding, and boating. Due to the hilly region, jeep safaris are also a common activity. Munnar is a frequent visitor with his two most popular tourist destinations in Kerala, Alleppey, and Thekkady. Yamanoeki is a great place to buy tea and condiments. Cardamom, ginger, cinnamon, cloves, nutmeg, coffee, and a wide variety of homemade chocolates are available from many shops in the mountain town.
When is the best time to visit Munnar?
The best time to visit Munnar is from September to March due to the positive favorable weather. In summer (April to June) can be a bit hot, but it could still be visited during this period. Heavy rains during the monsoon season (July and August) can disrupt travel plans due to landslides and roadblocks. Hence, this period should be avoided to visit.
High season: November to February (10 to 29 degrees)
Mid-season: March to June (24 degrees to 37 degrees)
Low season: July to September (23 to 36 degrees)
Top 10 Tourist Places to Visit in Munnar
With a wide range of exciting activities for Munnar visitors such as plantation visits, trekking, camping, boating, parasailing, bird watching, wildlife viewing, rock climbing, fishing, and photography, all of Munnar's tourism, the spot is worth visiting for a short vacation.
1. Echo point:
At this point, if you shout your name out loud, it will echo within 3 seconds. Echo Point is a
beautiful combination of cool, sweet breezes, lush rolling hills, and an overall relaxing
environment. One of the must places to visit in Munnar.
Distance from Munnar: 15 km
Uses: nature walks, trekking, camping, family picnics, lake boating
Highlights: Rare Neela Kurinji flowers (Strobiranthes) bloom.
Business hours: 6:00 am to 7:30 pm
2. Kundala Lake:
Magnificent Blue PartKundala Dam and Kundala Lake are popular attractions in Munnar. It offers spectacular natural beauty and tranquility with stunning views of the hills on either side of the lake's crystal clear waters. It is one of the best places to visit in Munnar. Distance from Munnar: 20 km (on the way to Top Hill). It is best for boating and deer riding. Highlights: Man-made Kundala Dam is India's first arch Dam. Business hours: 8:30 am to 5:00 pm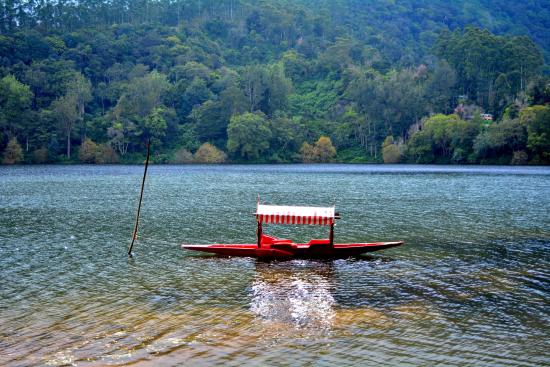 3. Atucado Falls:
Rage Bubbling Ecstasy: It is located between Munnar and Paribasar in the Idukki district. Atakud Waterfall can be tracked by a bridge made from wood. It is one of the main tourist attractions, especially during the rainy season. Distance from Munnar: 9 km Uses: Jungle trekking, picnics with friends and family, photography. What to see: Waterfalls violently from a height of over 1,500 Meters Business hours: 10:00 am to 6:00 ok
4. Elephant Lake:
Great place for Kids. Elephant Lake is a tranquil lake that is surrounded by a lush carpet of tea plantations everywhere you look. Elephants come to the lake to drink and bathe. It is an attractive sight for tourists visiting the lake. It is the Munnar sightseeing place. Distance from Munnar: 22 Km Best for picnics with family and children, trekking (nearby tea plantations)Highlights: Spot her two elephant herds and their cubs that come to drink water.Time: all-day
5. Mount Anamdi:
The highest peak in South India. It is the best place to visit If you want to experience the beauty of undulating hills and valleys with shimmering blue rivers, vast tea and spice plantations, and wildlife scattered throughout Eravikulam National Park, then you should hike to Ana Mudhi Peak. Located within the park, this peak is one of Munnar's top tourist attractions. Distance from Munnar: 15.6 Km Best Used For Trekking (with a Forest Department permit)Highlights: Western Ghats, the highest peak in South India and the highest mountain outside the Himalayas.Hours: Open 24 hours.
6. Mountain Station:
Best of Both World Sit is Munnar sightseeing place named after the train station perched high above the Kundala Valley, this hill station offers mesmerizing views of the city below. The cotton clouds that blanket the hills and valleys, the soft bluish appearance of the destination due to the rare Neelakurinji flowers, and the panoramic views of the Western Ghats make it a must-see place in Munnar's list of must-see attractions. Distance from Munnar: 32km Best for: trekking, camping, photography, visiting the Neelakurinji Sanctuary Highlights: Situated on the border of Tamil Nadu and Kerala, it offers stunning views of the Western Ghats of Kerala on one side and the valleys of the Teni district of Tamil Nadu on the other. Business hours: 6:00 am to 6:00 ok
7. Tata Tea Museum:
A temple for all tea lovers and the Munnar sightseeing places founded by Tata Tea many years ago, the museum only explores the origins and development of tea plantations in Munnar over the centuries. The museum essentially pays homage to the fact that Munnar has some of the best tea plantations in the world and it is one of the must-visit places in Munnar. Distance from Munnar is 1.3 km. The best time for Picking your own tea and tasting a variety of exquisite Teas. What to see: The tea is served in Munnar which is best in taste. Business hours: 9:00 am to 4:00 pm
8. Chithilapuram:
A carpet of lush green tea plantations. It is the best place to visit in Munar. Chithilapuram is characterized by old bungalows, cottages, playgrounds, and lush dunes of tea and spice plantations that stretch to the horizon. With its old-world charm, Chithilapuram is one of his must-visit attractions in Munnar.Distance from Munnar: 10 Km Best Use: Trekking Highlights: aromas of tea and spice plantations. Hours: Open 24 hours.
9. Devi Clam:
Sanctuary of Spirituality and Divinity The city of Devikulam not only offers spectacular views of Parivasar Waterfall and Sita Devi Lake but is also a haven for pilgrims and temple visitors. Devikulam is one of the major tourist attractions for devotees in Munnar with many temples such as Ganesh Temple, Mariamman Temple, and Aiyanar Temple in the city.
It is one of Munnar's sightseeing places. Distance from Munna is 9 km. Uses: Climbing, fishing, trekking, hiking, picnics, Photography Highlights: The water of Sita Devi Lake is considered holy water and is said to purify and rejuvenate visitors.Hours: Open 24 hours
10. Chinna Canal:
A pristine and well-preserved piece of natureChinnakanal, a small village near the town of Munnar, is fairly well preserved in its pristine condition, making it one of Munnar's must-see attractions. The Chena Canal waterfalls in this area are truly amazing.
The water springs up from an altitude of 800 meters, forming a pale, frothy stream below, and the surrounding air is scented with fresh water and tea leaves. And above all, the beauty of these waterfalls is still hidden and undiscovered. Distance from Munnar town: 20 Km Best for trekking, waterfall bathing, and nature Photography Highlights: A beautiful waterfall that will leave you Speechless Hours: Open 24 hours
List of the best resorts in Munnar
1. Blanket Resort & Spa:
As one of the finest 5-star hotels in Munnar, this resort offers the absolute beauty and luxury of nature. They try to maintain a friendly environment that is extraordinary among other resorts in south India. Honeymoon rooms in the hotel are very popular. It best resort in the resort is accessed via NH 85, which is 2 miles from the resort. Blanket Resort & Spa Highlights – In-house naturalist trekking experiences, cultural performances, yoga and meditation, and cooking classes are just some of the fascinating activities offered at the resort. Know morehttps://www.tripadvisor.in/Hotels-g303881-zff8-Munnar_Idukki_District_Kerala-Hotels.html
2. Amberdale Resort:
Amberdale is a charming and trendy resort with rooms overlooking the tea gardens. Most rooms have jacuzzis and large balconies where you can see the sunrise over the mountains right from the balcony door. In the evenings, you can spend hours sipping coffee and chatting while watching the beautiful sunset. Amberdale Munnar Highlights – resort luxury, mountain vistas, vast meadows, and pleasant fog.
3. Parakat Nature Hotels and Resorts:
Hotels are mostly admired by honeymooners and travelers. Parakat Nature Hotels and Resorts is the best 5-star luxury hotel in Munnar. Luxury hotels are an ideal choice for leisure travelers who enjoy staying while enjoying the beauty of this place. The nearest airport to the hotel is Cochin International Airport, 109 kilometers away. Highlights of Parakat Nature Resort – The famous jewelry shop near the attractions around the waterfall is one of the few places to visit near the hotel.
4. Munnar Spice Tree:
Spice Tree Hotel is about 24 miles from Munnar Bus Station. The nearest train station to the hotel is Aluva station, at a distance of 140 km. Cochin International Airport is the nearest airport, 150 kilometers from the hotel. Spice Tree Munnar Highlights – A Sip of the Famous 300 BC Coffee When you stay at the Spice Tree Hotel, be sure to visit Karma His Coffee shop. The nearby book bar is great for bookworms. Ethnic cooking classes, tea plantation visits fresh tea tastings, swimming pools, and much more make for a fun-filled day making it one of the most important places to visit in Munnar.
5. Reef Resort Munnar:
One of the most charming resorts in Munnar with a great atmosphere and service. It is placed within 20 hectares of tea and spice plantations. The resort also has cottages and is known for its excellent food and customer service. From Cochin International Airport or Aruba Railway Station, the resort can be reached via a direct road to Ratnagiri. Highlights of Reef Resort Munnar – This resort is located very close to Potamedu View Point and Blossom Heidel Park. All of Munnar's major attractions are just a short drive from the resort.