The southern part of India has its unique charm. The diverse beauty of South India has not been explored as much as in North India. The hillside resorts, temples, beaches, and historical monuments make this area very special and interesting. South India is known for its ancient temples and monuments constructed by various dynasties. From the stone sculptures of Krishnadevaraya to the architectural style of Chalukya to the architecture of Vijayanagara, these monuments are unique and beautiful. These stunning architectural wonders are worth seeing. South India is home to some of the finest temples and the wealthiest temples in India. Tamil Nadu alone counts about 33,000 temples.
1-Ramanathaswamy Temple – Rameshwaram
One of the southernmost famous temples in South India, the Ramanathaswamy Temple was built in the 17th century on the island of Rameshwaram in Tamil Nadu. The temple is of particular importance to Hindus as it enshrines him, one of Shiva's 12 jyotirlingas found throughout India.
Main deity: Lord Shiva
Location: Rameswaram, Tamil Nadu 623526
Opening hours: 4:30 am to 1:00 pm. 3 pm to 8:30 pm
How to get there: By Air: The nearest airport from Rameshwaram is Madurai, 163 km away. Rameshwaram Station is conveniently accessible daily by train from Chennai, Thanjavur, Trichy, and Coimbatore.
2- Mahabaleshwar Temple – Gokarna
Karnataka to enjoy the beaches and explore the city's spiritual side, such as the Mahabaleshwar Temple. An ancient temple dedicated to Lord Shiva, it is very popular for its classical Dravidian architecture. The temple holds many legendary stories about the history of the gods. If you want to hear the classic story, go here.
Main deity: Lord Shiva
Location: Koti Teertha Rd, Kotiteertha, Dandebagh, Gokarna, Karnataka 581326
Opening hours: 6 am to 12:30 pm. 5 pm to 8 pm
How to get there: Gokarna is well connected by road. The nearest train station is in Ancora, just 20 km away. You can get off at this station and transfer to a bus to go overland directly to Gokarna.
3-Venkateshwara Temple – Tirupati
Among all the famous temples of South India, Tirupati's Venkateswara Temple is the most visited and recognized temple. The temple not only receives millions of devotees each year but also receives generous donations of human hair and money from loyal devotees of Lord Vishnu.
Main deity: Lord Venkateshwara
Location: S Mada St, Tirumala, Tirupati, Andhra Pradesh 517504
Opening hours: 9:00 am to 9:00 pm
How to get there: Tirupati, now a major religious tourist destination, is well served by flights to Hyderabad, Chennai, and Bangalore. Tirupati is also connected to all major cities in India by railways and roads, facilitating smooth access for the millions of devotees who visit the Tirupati shrine each year.
4-Chennakeshava Temple – Belur

Built by King Vishnuvardhana in the 12th century, the Chennakeshava Temple was a major tourist attraction in Belur, the early capital of the Hoysala Empire. This is one of the most spectacular temples in South India and draws the attention of pilgrims from all over the country.
Main deity: Lord Vishnu
Location: Temple Road, Belur, Karnataka 573115
Business hours: 9:00 am to 5:30 pm
How to get there: The nearest airport to Belur is Mangalore, 114 km away, with good access to all major Indian cities. Belur's nearest train station is at Sakleshpur, Karnataka, 26 km away. Buses run daily from Mangalore, Chennai, and Coimbatore.
 5-Arunachaleswar Temple – Thiruvannamalai
Arunachaleswar Temple is a Tamil Hindu temple built by the Chola dynasty in the 9th century and is one of the most important Shiva temples still standing in South India. Not only is this temple located in the Annamalai Hills of Tamil Nadu, but it is also of great importance to Hindu Saivism.
Main deity: Lord Shiva
Location: Pavazakundur, Tiruvannamalai, Tamil Nadu 606601
Opening hours: 5:30 am to 12:30 pm. 3:30 pm – 9:30 pm
How to get there: The nearest airport to Tiruvannamalai is Pondicherry, 89 km away. Tiruvannamalai railway station is a major stop for trains passing through Tamil Nadu and is connected by rail and road to almost all major cities in India.
6-Shore Temple – Mahabalipuram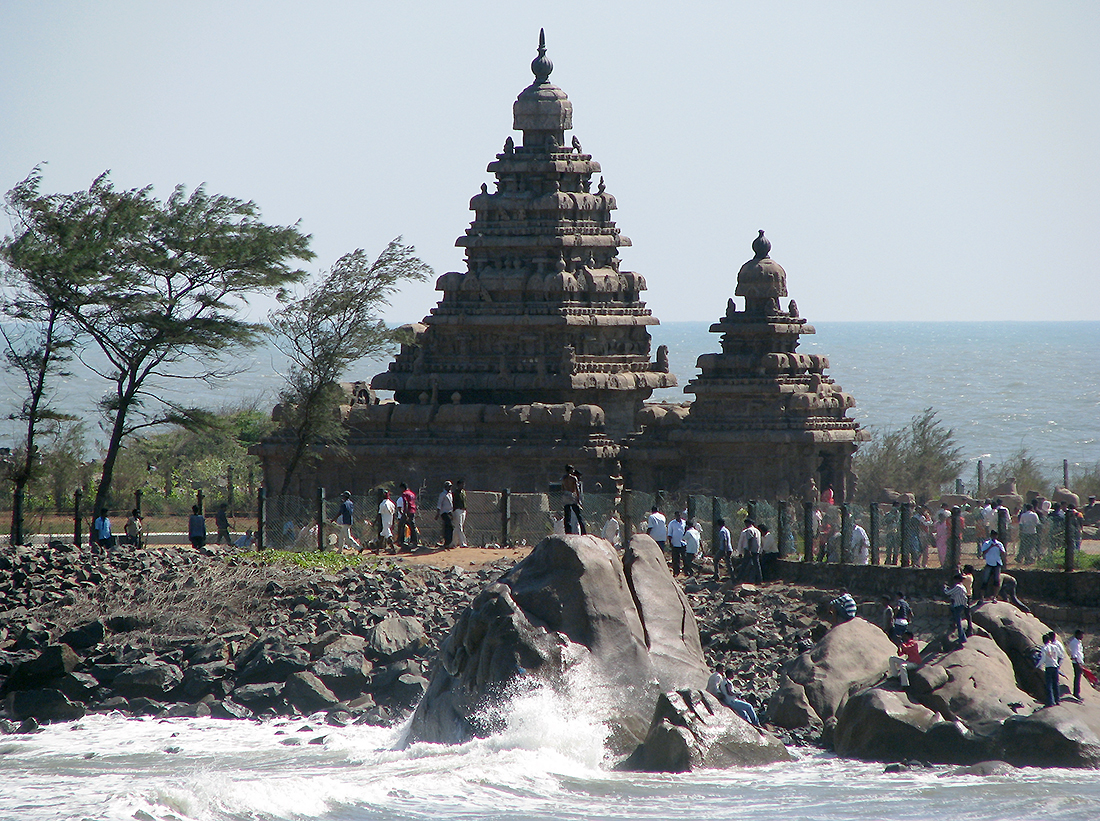 7-Brihadiswara Temple – Thanjavur
The Brihadiswara Temple, a recently completed 1000-year-old temple in Thanjavur, is a famous UNESCO World Heritage Site and is considered one of the most famous temples in South India built by the great Chola dynasty. increase.
Main deity: Lord Shiva
Location: Membalam Rd, Balaganapathy Nagar, Thanjavur, Tamil Nadu 613007
Opening hours: 6 am to 12:30 pm. 4 pm to 8:30 pm
How to get there: Thanjavur does not have an airport, so the nearest airport is in Trichy, 48 km from the city center. In terms of rail, Thanjavur Junction is well connected with other major cities in South India. Buses run regularly from Thanjavur to Chennai with a total journey time of 6.5 hours.
8-Meenakshi Temple – Madurai
Believed to have been built in the 7th century AD, the Meenakshi Temple has long stood as one of the most elaborate of South India's famous temples. Legend thought that it that the foundation stone of the temple was laid by Lord Indra, but the current structure was lastly modified by him in the 16th century to add color and intricate detail.
Main deity: Goddess Paravati
Location: Madurai Main, Madurai, Tamil Nadu 625001
Opening hours: 5 am to 12:30 pm. 4 pm to 10 pm
How to get there: The city of Madurai has a domestic airport and a railway station, providing easy access to all of India's major metropolitan areas. The 462 km distance between Chennai and Madurai can be traveled by land in 8 hours.
9-Guruvayur Temple – Guruvayur
This temple is located in the city of Guruvayur, this temple is considered to be the most important place of worship for Hindus in Kerala who compliment this South Indian temple as "the sacred abode of Vishnu on earth". He is considered one of the oldest and most famous temples in South India. According to the earliest written records, the temple is almost 5,000 years old.
Main deity: Lord Vishnu
Location: Guruvayur Devaswom, Dongtan, Guruvayur, Kerala 680101
Opening hours: 3 am to 1:30 pm. 4:30 pm – 9:00 pm
How to get there: The nearest airport to Guruvayur is Kochi International Airport, just a 90-minute drive away, providing easy
domestic and international connections to the temple. Guruvayur also has its railway station, connecting to major South Indian railway stations such as Ernakulam, Chennai, and Coimbatore.
10-Shri Krishna Temple – Udupi
At the Shri Krishna Temple, a statue of Shri Krishna stands opposite the entrance. A devotee, Kanakadasa, is said to have been denied entry because he was wearing a plaster cast. He went behind the entrance and offered a prayer. Locals believe that the statue of Lord Kanakadasa turned its face, henceforth the window has been called Kanakana Kindi.
Main deity: Lord Krishna
Location: Temple Car St, Sri Krishna Temple Complex, Thenkpete, Maruthi Veethika, Udupi, Karnataka 576101
Business hours: 6:00 am to 9:00 pm
How to get there: Udupi is located 59 km from Mangalore International Airport and is easily accessible by car.
11-Attukal Bhagavathi Temple – Trivandrum
The Attukal Bhagavathi Temple is an exquisite blend of Kerala and Tamil architecture. As this temple is an important religious site in Trivandrum, it is crowded all year round. The intricate carvings and carvings dedicated to Goddess Bhadra Kali are worth seeing. This is one of the most popular temples in South India.
Main deity: Goddess Bhadrakali
Location: PO, Attukal – Chiramukku Rd, C Block, Attukal, Manacaud, Thiruvananthapuram, Kerala 695009
Opening hours: 5:00 am to 12:30 pm, 5:00 pm to 8:30 pm
How to get there: The nearest airport is Thiruvananthapuram International Airport in Varyathura, 6 km from the city and about 7 km from the shrine.
12- Ekambaleshwarar Temple – Kanchipuram
Covering an area of ​​over 25 hectares, Ekambaleshwarar Temple is the largest of the famous temples in South India. The temple hosts its 12 festivals throughout the year, with six players making offerings to the deity each day.
Main deity: Lord Shiva
Location: Ekanbaranathar Sannathi St, Periya, Kanchipuram, Tamil Nadu 631502
Opening hours: 6 am to 11 am. 5 pm to 8 pm
How to get there: Kanchipuram is located 68 km from Chennai, making it very easy to reach for those wishing to visit the temple of worship by air. Additionally, Kanchipuram has its own bus and train station and its proximity to Chennai allows access to all major cities in India.
13-Sarangapani Temple – Kumbakonam
The Sarangapani Temple is considered one of the three most important temples of Vishnu in South India. It is believed to have been built over 2000 years ago, as it is regularly worshiped in early 7th-century texts. The temple is also considered one of the 108 Divyadesams and is said to contain many important relics from various dynasties, including the Chola and Vijaynagar empires.
Main deity: Lord Vishnu
Location: Sarangapani North Madavigam, Valayapettai Agraharam, Kumbakonam, Tamil Nadu 612001
Opening hours: 7 am to 12 pm. 5 pm to 9 pm
How to get there: Kumbakonam does not have an airport. The nearest airport is Tiruchirappalli, 77 km away. However, Kumbakonam has its own train station and bus station, so it has good rail and road connections.
South Indian temple architecture
known as the Dravidian style. Invariably used in Hindu temples in modern Tamil Nadu from the 7th century to the 18th century, it features a pyramidal or Kutina tower. Variants exist in Karnataka (formerly Mysore) and Andhra Pradesh. A South Indian temple is a square chambered sanctuary topped by a superstructure, tower, or spire, and a pillared portico or hall maṇḍapa surrounded by a portico of tufts within a rectangular courtyard. It consists of the outer walls of the temple are separated by pilasters and have gaps where carvings are housed. The superstructure or tower above the sanctuary is china-shaped and consists of a pyramidal arrangement of gradually retreating floors. Each floor is surrounded by a miniature temple balustrade with square corners and a rectangular center, with a barrel-vaulted roof. The top of the tower is fitted with a dome-shaped cupola and a pot and finials at the top.
The origins of the Drāviḍa style can be found in the Gupta period. Brihadishvara Temple, built around 1003-1010 by Rajaraja the Great, and the Great Temple at Gagaikondakotapuram, built around 1003-1010. best expressed. Later, the style became more and more elaborate, adding to the complex of temple buildings surrounded by courtyards and adding several successive enclosures, each with its gate.